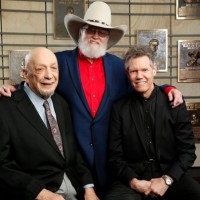 It was an emotional Tuesday night for three country legends, as singers Randy Travis, Charlie Daniels and record producer Fred Foster were given country music's highest honor: induction into the Country Music Hall of Fame! Fred Foster is an 84-year-old record producer who is largely responsible for the successes of Willie Nelson, Kris Kristofferson and Dolly Parton to name a few.
Charlie Daniels was visibly moved during the ceremony, opening his acceptance speech with, ""Oh, mercy. I'm flabbergasted. You can work toward other goals but you can't work toward this. I don't ever get nervous in front of a crowd of people. I'm as nervous as hell."
The ceremony's emotional highlight, however, came when Randy Travis took the stage to accept his induction. Travis is continuing to recover from a massive stroke he suffered in 2013, and was able to say "Thank you" on stage before his wife finished his acceptance speech for him.
To read the full story, click here