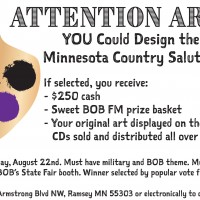 **Attention Artists in BOB Country!**
YOU Could Design The Cover of Our Minnesota Country Salute CD: Volume 3!
We're looking for talented local artists to design the cover of our Minnesota Country Salute CD: Volume 3, which is a compilation CD comprised of songs by talented local artists! (See what we did there??) This charitable CD project is sold and distributed ALL OVER the Twin Cities during the holiday shopping season, and 100% of the net proceeds are donated to the Minnesota Military Family Foundation and Tribute to the Troops.
If your artwork is selected, you receive:
$250 Cash
Sweet BOB FM prize basket
Your name and art displayed in thousands of CDs sold all over the Twin Cities!
Your name read on air dozens of times during CD promotion
Your artwork must include the following:
A military theme
A BOB FM/country theme
Originality
Square in dimension
Deadline for the contest is Monday, August 22nd! We'll be displaying the finalists at our BOB FM booth at the Minnesota State Fair, located on Judson Avenue across from the Coliseum. The winner will be selected by popular vote from booth visitors, and will be notified after the Fair is over.
If selected, you would then be required to complete a collection of designs based off your CD cover for the inner cover, back cover, and CD itself.
Please send your artwork to 14443 Armstrong Blvd NW, Ramsey MN 55303 or electronically to community@mybobcountry.com.
Good Luck!!