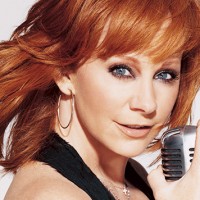 Did you know Reba McEntire holds an incredible record in country music? That's right, not only does she STILL remain a country powerhouse, she's been doing it for decades! Our favorite redhead is the only female country solo act to have a No. 1 hit in four consecutive decades.
Her first ever No. 1 hit "Can't Even Get the Blues" shot to the top of the charts in 1982. The '80s were good to Reba as she enjoyed tons of success with hits like "How Blue", "Little Rock", "Love Will Find Its Way To You" and "New Fool At An Old Game". In the '90s, she blessed us with "You Lie", "Is There Life Out There", "Does He Love You" and "How Was I To Know". In the 2000s she dropped three albums, which included songs like "Somebody" and "Consider Me Gone". Since 2010 she racked up another No. 1 hit with "Turn On The Radio".
Throughout her career, she's achieved an impressive 35 No. 1 hits total and has sold over 56 million records worldwide. Not bad for a gal that just turned 62 yesterday. Happy birthday Reba, and here's to another four decades!