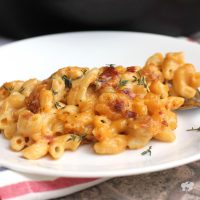 It's National Mac & Cheese Day and I'm celebrating by sharing my favorite homemade Mac & Cheese Recipe with you!
Garlic, Bacon & Beer Macaroni & Cheese
Ingredients:
6 Strips bacon, cooked and crumbled, divided
4 Tablespoons butter, divided
3 Tablespoons all-purpose flour
2 large cloves garlic, minced
1-1/2 teaspoons fresh thyme leaves, divided
2 cups milk
3/4 cup stout beer
1 teaspoon kosher salt
pinch of fresh cracked pepper
2 cups shredded sharp cheddar cheese
1/2 cup Wispride or Kaukauna brand sharp cheddar cheese spread (found in the dairy aisle)
8 oz elbow macaroni
1/2 cup panko breadcrumbs
Garnish: fresh thyme leaves and a couple pinches barbecue seasoning
Instructions:
Heat oven to 350F. Bring a large pot of water to a boil.
In a medium saucepan, heat 3 tablespoons butter with the flour over medium heat, whisking until bubbly. Cook 2 minutes. Add the garlic and 1 teaspoon thyme and cook an additional minute. Slowly whisk in the milk and beer. Heat, stirring constantly, a couple minutes until quite warm but not boiling. Reduce heat to medium-low, add both cheese, salt, and pepper and cook, whisking until smooth. Remove from heat. Stir in half the bacon.
Cook the macaroni to al dente according to package directions in salted water. Drain and add to the cheese sauce. Transfer to a 2 quart baking dish.
In a small saucepan, melt the remaining 1 tablespoon butter. Add the panko, remaining 1/2 thyme, and remaining bacon. Sprinkle over the macaroni. Bake at 350F for 20-25 minutes until bubbly. Serve garnished with fresh thyme leaves and a pinch of BBQ seasoning.
Yield: 6-8 servings.
To find this recipe online and more from this chef, please visit Erica's Recipes online.