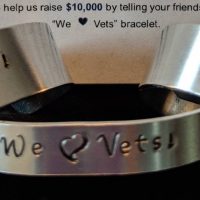 What is the Friends of the Homeless Vets Project?
A group of citizens whose goal is to renovate three cottages at the former Anoka State Hospital to house homeless vets. All things are possible through God.
For further details, check out the group's Facebook page!
To donate time and/or materials, email Senator Jim Abeler at sen.jim.abeler@senate.mn
To make a monetary donation go to (make sure you designate ANOKA on your donation): www.eagleshealingnest.com/donate.html
Bracelets are designed by Yrazema Garcia (aka Z) Chema Malu.
Bracelets can be purchased at her store: 208 E Main St. Downtown Anoka, MN
612-720-1744.