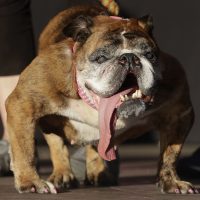 Photo credit:  (Jeff Chiu / AP)
The State of Minnesota can claim another championship coming off Minnesota Duluth's Hockey championship and the Minnesota Lynx's WNBA title, but maybe in a competition many wouldn't be too fond of owning.
Minnesota is now home to the Ugliest dog of the world. Zsa Zsa a nine-year-old English bulldog and her owner Megan Brainard both hail from Anoka, Minnesota. They both traveled to the 30th annual World's Ugliest Dog Contest took place in Petaluma, California.
Zsa Zsa beat out 14 other competitors to take home a cash prize and trophy. The bulldog Zsa Zsa sports a massive pink tongue that hangs all the down to her legs, a big under bite, and a wide stance.
While some can argue Zsa Zsa has a face an owner can only love. She will find herself becoming a celebrity as she goes on the Today Show and touring Times Square.
If you like to see a gallery of the other participates and bios, Click Here!