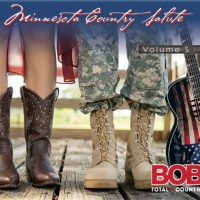 Thanks to the support of local artists, local businesses, and our listeners, we are able to release another Minnesota Country Salute CD this year for year 5 of the project! CDs go on sale Saturday, November 10th and will be available at over 70 Cub grocery stores, at Ralphies Minnoco in Elk River, Emma's Express in Albertville, Cafe Jules in Annandale, and at Keller Williams Classic Realty NW: Heart of the Lakes Team Office in Annandale!
You can also purchase your copy online here!
This year's artists include: Rockie Lynne, Sailor Jerri, Chris Hawkey, Devon Worley Band, Jeff Dayton, Shalo Lee, Shane Martin, Erica Hanson, Hitchville, Ali Gray, The Hell Country Truckers, Dayna Koehn, The Plott Hounds, Erin Grand, Jake Nelson, Kristine Wriding, Poppa Bear Norton, Liz Keeney, Jason Paulson Band, Alisa Star, The Farmer's Daughters, and a special bonus track by Blackhawk!