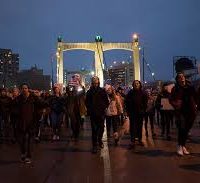 I think everyone would agree that 2020 has been everything, but predictable. The first big event of the year was the COVID-19 outbreak. However, it doesn't end there. Minnesota citizens are now experiencing riots over George Floyd's death. 
At times it is hard to see a silver lining, but they do exist.
Hundreds of bags of food consumed the lawn of Stanford Middle School in south Minneapolis this past weekend. 
This food drive was in response to the destruction of stores within walking distance of surrounding neighborhoods. Adults and children teamed up to make sure their community could survive. 
A reminder that good things can happen.
For more information, click here.