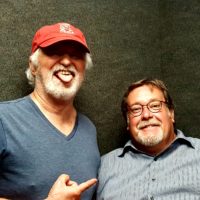 *UPDATED*
A huge thank you to all those who helped us pull off our Summer Surprise. It was an incredible experience to have so many legendary voices come together to shine a light on Alzheimer's. If you missed it, Chuck and Jon came back to host their morning show with the help of some VERY familiar voices including:
Terri Traen
Dan Hertsgaard
Rob Sherwood
Bob Lang
Pat McKay
Mac McAnally
Don Anger
Orly Knutson
True Don Bleu
Charley Brown
Dennis Carpenter and more! A special thanks to radiotapes.com for providing much of the audio used from these legendary careers.
IF YOU MISSED ANY OF THE SHOW…
Alzheimer's caregiver interview with Monarch Healthcare Management, the Estates of St. Louis Park.
About Alzheimer's Association
Every 65 seconds a person in the United States is diagnosed with dementia or Alzheimer's disease.  There are 5.8 million people in the United States living with the disease. At BOB FM, we have family members who have been impacted and we know how difficult the journey is.  We also know the Alzheimer's Association MN/ND Chapter is there to help with education, support services, advocacy efforts and dollars for research.  That's why on the Longest Day, the day with the most light, BOB FM is helping to raise awareness and funds for the Association. Please join our efforts to shine a light– a bright light on dementia and Alzheimer's– while making a contribution to the Alzheimer's Association.