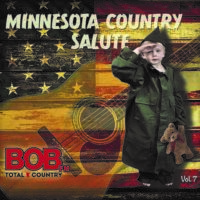 It's finally here! The Minnesota Country Salute CD Volume 7! Once again the net-proceeds will benefit the Minnesota Military Family Foundation and Tribute to the Troops.
Have it shipped to you from dealsonradio.com or pick it up today at the following Cub locations, as well as:
Beginning Saturday, November 21, you can purchase your Minnesota Country Salute CD Volume 7 at the following Cub locations in Minnesota:
Blaine South- 585 Northtown Drive Blaine, MN  55434
Blaine West- 10881 University Ave. NE Blaine MN 55434
Buffalo- 1008 East HWY 55 Buffalo MN 55313
Cambridge- 100 Xylite Street NE Cambridge MN 55008
Champlin- 8600 North 114th Ave. Champlin MN 55316
Coon Rapids North- 12900 Riverdale Drive Coon Rapids MN 55448
Elk River- 19216 Freeport Ave. Elk River MN 55330
Forest Lake- 2013 Broadway Ave. W Forest Lake MN 55025
Maple Grove- 8150 Wedgewood Lane Maple Grove MN 55369
Minnetonka- 4801 HWY 101 Minnetonka MN 55345
Monticello- 216 7th Street West Monticello MN 55362
Plymouth 6th Ave- 10200 6th Street N Plymouth MN 55447
Rockford Road- 4445 Nathan Lane Plymouth MN 55442
Rogers- 13855 Rogers Drive Rogers MN 55374
Rosemount- 3784 150th St W Rosemount MN 55068
Shakopee- 1198 Vierline Drive East Shakopee MN 55379
St Michael- 900 Central Ave E, St Michael MN 55376
West St Paul- 2001 S Robert Street W. St. Paul MN 55118
White Bear Lake South- 1920 Buerkle Road White Bear Lake MN 55110
Also available on iTunes, Spotify, Amazon Music and everywhere you download your favorite music.
About the organizations
The Minnesota Military Family Foundation:
minnesotamilitaryfamilyfoundation.org
The mission of the Minnesota Military Family Foundation is to provide timely financial assistance to deployed and currently serving Minnesota military personnel and their families – which includes active duty, national guard and reserve components, across all services – who have a financial crisis that is not supported by existing state or federal programs.  The Minnesota Military Family Foundation is a 100% volunteer organization.
Tribute to the Troops:
Since 2004, Minnesota members of Tribute To The Troops have conducted an annual ride weekend each September, visiting dozens of families over the years that have lost a loved one in the War on Terror. Each year, the number of participants has grown, helping to increase awareness among others of the ultimate sacrifice made by these brave American Heroes and their families.
We have been able to raise money for these incredible organizations with the help from our sponsors:
Cub, American Pressure, Federal Premium Ammunition, Hair Trigger Fun Shop, Osseo/ Maple Grove American Legion and Popp Communications! And the incredible songs by our Homegrown Artists (Full track list)