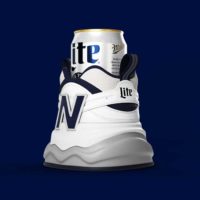 For the dad who has everything is really sounds old fashioned at this point, but since when does dad care about that? You think he wears those stark white New Balance tennis shoes because they are stylish. Partially, but it's all about comfort. So Miller Lite has teamed up with New Balance to bring the ultimate comfort to your beer hand.
Introducing the "Shoezie."
You'll have to sign up for a chance to win a shoezie ON FATHER'S DAY, June 20th between 9a-9p.
It would go great with a pair of khakis.