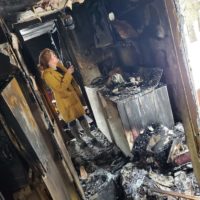 What more can you say but, "Good Dog!"
It's not the way you'd want to start Christmas, but at least everyone is alive. According to the Haegeman family of Nevis, Minnesota, their oldest daughter, Emily, was awoken by the family dog, Gracie. A fire had broken out in their home and Gracie made sure someone knew! Emily was able to shout and wake her father, Devin, and the rest of the family, giving them enough time to escape before the entire structure was engulfed in flame.
At first, Devin was unable to find Gracie. So he went back to find her and pulled their little savior out from underneath a bed. The house is a total loss along with nearly all their possessions, so a GoFundMe has been set up on their behalf if you would like to help the Haegeman Family get back on their feet.
Gracie started off as a foster dog the family was taking care of until they fell in love with her. So Gracie became a member of the Haegeman family. And she returned the favor by saving their lives. Ever thought about fostering an animal? Check out Ruff Start Rescue