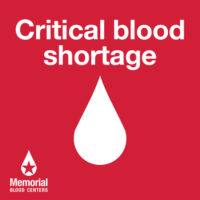 January is National Blood Donor Month.
Right now the national blood supply is at historically low levels. Normally there is a 3 to 5 day supply of blood ready to be shipped out to hospitals. But recently that supply has been down to one day or less. This means a delaying potentially life saving surgeries because of a lack of blood.
You can change that.
Schedule your donation today at one of the many Memorial Blood Centers throughout BOB Country on their website.