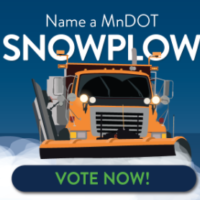 It's finally here! Voting for MnDOT's Name a Snowplow Contest is open!
They took over 11 thousand submissions for names last month but MnDOT somehow narrowed that down to just 50 finalists. Although there's definitely a few submissions that were finalists last year, there some good ones.
Some staff favorites:
Ctrl Salt Delete
How Now Orange Plow
Betty Whiteout
Here's the deal. You can vote for 8 names between now and Wednesday, January 26th. Once they've closed the ballots, the top 8 names for all voting will be named victorious in early February.
Submit your votes on the MnDOT website right now.