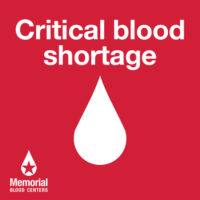 Once again, the blood supply is critically low
Right now the national blood supply is at historically low levels. Normally there is a 3 to 5 day supply of blood ready to be shipped out to hospitals. But recently that supply has been down to one day or less. This means a delaying potentially life saving surgeries because of a lack of blood.
Memorial Blood Centers has asked for donations this week, and recurring donations during the summer to help bring the reserves back towards a normal level. Your single donation this week could save up to 3 lives.
Schedule your donation today at one of the many Memorial Blood Centers throughout BOB Country on their website.