This is the Backroads Radio Show broadcasting from the Lee's Liquor Lounge Studio
We will be bringing you country music "off the beaten path" that might not normally make its way to your radio–Outlaw Country, Americana, Red Dirt, Bluegrass–you name it–we'll play it!!  Hosted by Steven Ray, we welcome you to check out our Facebook page or email us backroadsradio@mybobcountry.com!
We want to thank Lee's Liquor Lounge for their sponsorship as well as Six String Country.com!  Check them out and tell them "Thanks for powering Backroads Radio" &  Thank YOU for listening to BOB FM!
Backroads Radio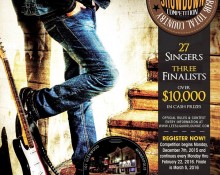 Country music off the beaten path–red dirt, Americana, bluegrass, etc–we call it "Backroads Radio" driven by Lee's Liquor Lounge. Our featured artist this week is Sundy Best! Have an idea for an artist send us a note