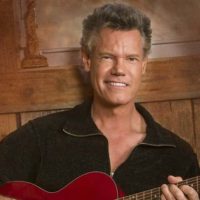 Get ready for a heart-string puller! A friend of Randy Travis and Texas police officer, Keith Bartlett of Gainesville, was able to get himself and his family out of his home safely during a house fire, but unfortunately lost everything – including his cherished guitar.
The home was a total loss, but the Gainesville community has helped him replace almost all of his home essentials. Randy Travis himself donated furtniture, according to KXAS-TV in Fort Worth, TX.
There was one special item that couldn't be replaced, however – Bartlett's Gibson acoustic guitar. He played regularly, and losing his favorite instrument was devastating. That's when Travis, his wife Mary, the Bartlett family and the Gainesville PD put a plan in to motion to replace the irreplaceable. Bartlett responded to a phony call about a suspicious vehicle on Christmas Day, and later returned to the police department briefing room to find none other than country legend Randy Travis!
"When Randy found out about this tragedy, Randy wanted to help him out," Officer Michael Green told KXII in Texas. Bartlett had helped out during a theft investigation on Travis' ranch several years prior, and Randy decided it was time to make good on that act. He put in a call to his friends at Gibson, and the guitar maker had an acoustic delivered to Bartlett the next day.