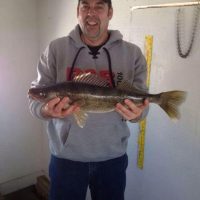 Join Neil Freeman on an all-inclusive fishing excursion to beautiful Ballard's Resort in the Lake of the Woods area on the northernmost point of Minnesota! Travel in luxury on a spacious coach bus with like-minded anglers and your favorite BOB FM personality to a fisherman's paradise. Ballard's Resort offers comfortable and modern cabins with a spacious lodge and fully-stocked restaurant and of course, some of the best fishing Minnesota has to offer.
The Winter Walleye Connection 2019 per package includes: round trip coach transportation, two nights lodging, two days guided ice fishing, seven meals, angling equipment, fish cleaning, sales and lodging tax. Special rate of $455 per person with your group of 4 or more, with a regular rate of $475 per person. Deadline for registration is December 30th.
This trip will be departing Sunday, January 27th and arriving at Ballard's Resort at 4:00pm. This trip will depart from Ballard's Resort at 5:00pm on Tuesday, January 29th.
Book your trip now by calling 1-800-776-2675 and asking about the "BOB FM Ice Fishing Trip," or visit their website at ballardsresort.com!