Catch Brad Saturday afternoons from 1 to 5!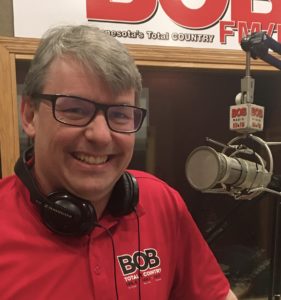 While Brad has had a love of radio as long as he can remember and was able to start working on his career during his public broadcasting class at Forest Lake High School.  In 1989, as a freshman, he began his on-air radio career at The University of Tulsa.  You could usually find him Thursday nights from 9:00 to Midnight on the school's NPR affiliate KWGS-FM.  As a sophomore, he started at the new on-campus station "Storm 101-FIVE" where he could let loose and play whatever struck his fancy.  As a senior, he interned at Tulsa's Z-104.5, and could be heard helping out on the morning show, along with a few over night shifts.
Then Brad took a two-decade break from radio, working at an audio-visual company for about four years in Oklahoma and Pennsylvania, before moving back to Minnesota to work for Securian Financial Group (then known as Minnesota Mutual Life.)  After 16 years, Brad moved back into radio on the sales side at Club 12-20 KLBB radio in Stillwater.  After a year, he was promoted to General Manager and ran the station for a few years.
Brad then moved over to Total Country BOB-FM and was promoted to General Sales Manager in 2018.  That is still Brad's "day job." In November of 2019, Brad re-started his on-air career.  While you may catch him filling in here and there, you can listen to Brad every Saturday afternoon from 1:00 to 5:00.
Brad is happily married to the very hot Ann Clark, and is the father of six.  The oldest is in graduate school, the youngest in pre-school.